ICEJ Worldwide Branches Rally for Israel
By David Parsons, ICEJ VP & Senior Spokesman
The ICEJ's global network of 95 national offices and activists in some 170 countries are standing up to defend Israel and combat the wave of antisemitic and jihadist incitement now sweeping the globe. Since the conflict erupted, ICEJ leaders and members have organized and joined numerous rallies around the world, including pro-Israel rallies in Albania, Australia, Brazil, Canada, Chile, Colombia, Costa Rica, Cyprus, Czech Republic, Denmark, Fiji, Finland, France, Georgia, Germany, Honduras, India, Italy, Ivory Coast, Mexico, Netherlands, Northern Ireland, the Philippines, Slovakia, Slovenia, South Africa, the United Kingdom, and many other countries.
The US Branch of the ICEJ will host their solidarity rally in Nashville, TN, this Friday from 1:00 p.m. to 3:00 p.m. (CT). All are welcome to attend.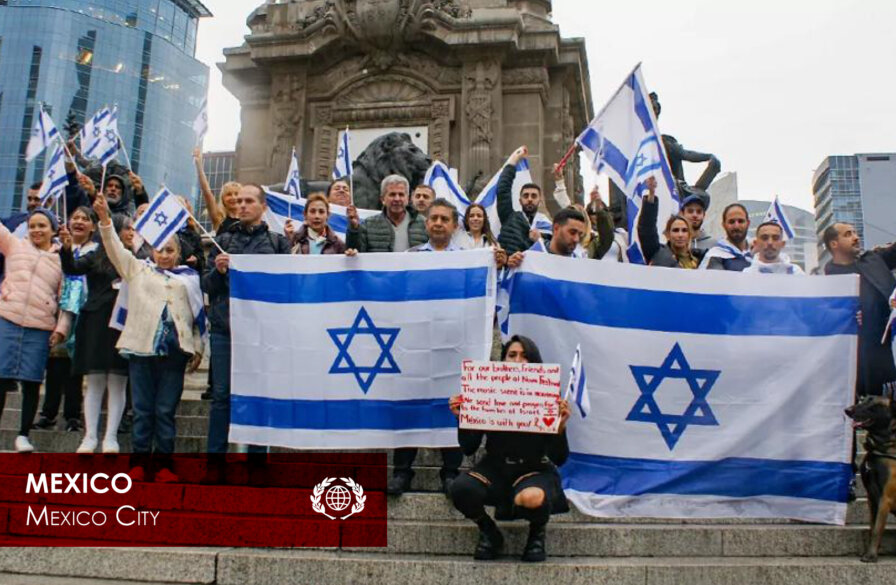 The ICEJ also partnered in the rally in Geneva, Switzerland, this past Sunday in front of the UN Human Rights Council and the International Committee of the Red Cross to demand more urgent action to free the Israeli and foreign hostages held by Hamas in Gaza.
In addition, the ICEJ is spearheading a global diplomatic effort to urge international leaders to do more to stand with Israel at this critical time. For example, the ICEJ USA branch, acting through the umbrella American Christian Leaders for Israel, has secured signatures from over 100 American and foreign Christian leaders on letters addressed to the UN Secretary-General António Guterres and US President Joe Biden calling for the isolation and sanctioning of Iran and defeat of its proxy militias Hamas and Hezbollah.
After condemning the mass atrocities committed by Hamas terrorists on Israeli civilians during a Jewish holy day on October 7, the ICEJ has been engaging in urgent efforts to support and defend Israel and assist with the delivery of critical relief aid throughout the country.
"The ICEJ has called on Christians everywhere to support Israel's right to self-defense and its just cause of defeating Hamas and freeing not only the 200-plus hostages in Gaza but also freeing the Arab population of Gaza from the cruel grip of Hamas," said ICEJ President Dr. Juergen Buehler. "We also have urged Christians to give sacrificially to help meet the many dire needs in this time of crisis for Israel—and also to pray as never before for the safety and protection of the Jewish State and people."
The ICEJ's response has been on three levels: relief aid, solidarity (read above and see this FAQ), and prayer.
Prayer
Thousands of Christians from around the world are joining the ICEJ every day for an online Global Prayer Gathering, where they receive updates from Israel and engage in both prayer and fasting for the deliverance of Israel and the entire Middle East region from the carnage, fear, and incitement to jihad unleashed by Hamas.
Relief Aid
The Christian Embassy is currently engaged in the following relief efforts:

Joining urgent food distribution efforts for the elderly, new immigrants, and needy families nationwide
Assisting thousands of evacuated Israeli families with housing, food, clothing, and emergency aid, plus toys and activities for the children
Supplying vital emergency equipment, including helmets and protective vests, for first responders
Placing rush orders for 8 more portable bomb shelters and renovating 20 existing shelters in vulnerable Israeli communities
Raising funds for at least two new ambulances and other emergency medical equipment
Providing clothes, tents, sleeping bags, and other outdoor equipment for those on the frontlines
Funding trauma counseling for Israeli families severely shaken by this conflict
Israel is in a desperate place and needs our assistance. Please give your best gift today.