ICEJ Provides Life-Changing Equipment for One of Israel's Top Medical Centers
By: Annaliese Johnson, ICEJ Publications and Events Registration
Israel is widely known today for its advanced medical facilities and research centers, to the point that many foreigners come here as "medical tourists" to receive treatments in Israeli hospitals. But sometimes these hospitals run short on key medical equipment needed to serve Israel's own growing population.
Recently, the International Christian Embassy Jerusalem provided lifesaving equipment to the Kaplan Medical Center emergency room, one of Israel's leading and busiest hospitals, in Rehovot. Kaplan's emergency room is considered the "heartbeat" of the hospital.
Kaplan Medical Center was originally formed out of army barracks in 1953 to serve 50,000 residents, but now it provides services for approximately 1 million Israelis. Currently run by Dr. Tarif Bader, a highly respected medical professional from the Druze community, the hospital serves many Holocaust Survivors, 40 percent of the Ethiopian Jewish community in Israel, a significant portion of the country's ultra-Orthodox Jews, and various minority groups. In addition to providing services for Israel's diverse population, the hospital also treats Palestinians from Gaza.
Dr. Tarif is no stranger to high influxes of patients and trauma. Before his role at the hospital, he served in the Israel Defense Forces (IDF), where he was responsible for the medical care offered to wounded Syrians crossing the Israeli border during the Syrian civil war. (This was part of the IDF's "Operation Good Neighbor" initiative, which the ICEJ also supported.) However, with the steadily growing population within Israel, the emergency room at Kaplan Hospital needed to acquire and upgrade missing or old equipment to care for patients properly.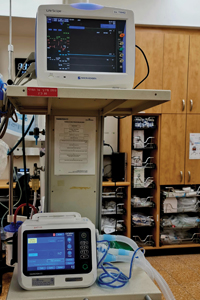 Thanks to your generous donations, the ICEJ donated a blood warmer and three defibrillators. The blood warmer, which can warm blood to body temperature in 35 seconds, helps greatly with saving lives every day. Meantime, the defibrillators give off electric impulses that can be the difference between life and death during cardiac arrest.
The final gift, special lighting needed for surgical procedures, will soon arrive. This device is a game-changer for victims of car accidents and other traumas whose care requires specific, focused lighting. Before this donation, surgeons often had no alternative but to use phone flashlights to deal with serious injuries.
"We really, really thank you. The equipment is easy to use. And it helps us save lives," assured Dr. Arkadi Shkaliar, who runs the emergency room.
Indeed, these gifts help reduce doctors' stress, while the ease of operating the devices helps ensure critical and timely care for all emergency room patients. In response to a severe shortage of qualified medical professionals in Israel, the ICEJ is also sponsoring a recertification program for new immigrant doctors, which brings more medical professionals into the field. We are proud to help improve medical services in Israel and contribute toward bridging urgent personnel gaps that can aid in preventing burnout of dedicated Israeli doctors.
These contributions to Israel's medical field are part of the ICEJ's "A Future and a Hope" initiative, which seeks to provide practical assistance to every sector of Israeli society— whether old or young, Arab or Jew, native-born or new arrival.
---
Support ICEJ AID today.