Haifa Home Residents Delight in New Experiences
By: Yudit Setz, ICEJ Deputy Aid Director
Here is the latest from the ICEJ's unique Home for Holocaust Survivors in Haifa.
Garden Outing
After the rain and cold of winter, the warmer weather brought everything into bloom here in Northern Israel. Israel was fresh and green again.
While many of our residents longed to see flowers blooming in nature, some were too weak to go outside alone. They stayed at home day after day but longed to go out and see something new. Some used to have gardens of their own and love flowers.
Not far from Haifa is Kibbutz Ygur, located on the slopes of Mount Carmel, which has a large nursery and greenhouse full of colorful flowers. It was a wonderful place to take a group of our residents who enjoyed the beauty of flowers and wanted to drink a cup of coffee in the nursery's café.
One of our wheelchair-bound residents, Julia, recently arrived from Ukraine with her son. "I didn't realize Haifa is such a big city," she said. "The only thing I see is my apartment, the dining room, and the doctor's office."
For Sofia the outing was balm for her soul. "These flowers don't only bring joy to my eyes, but they fill my soul with joy," she exclaimed.
A Bird's-Eye View of Haifa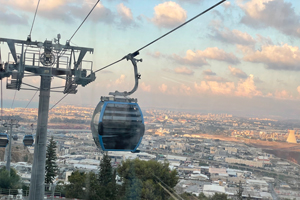 The ICEJ team also organized a special sightseeing tour in Haifa for a group of our residents. The change in environment, beautiful weather, and excitement of getting out were great ways to bond, even if they could not always communicate in the same language.
Haifa is built on the Carmel mountain range, and in 2022, a cable car opened to the public, and from it, visitors enjoy breathtaking views of Haifa Bay and the surrounding area. Our residents were delighted to try the new cable cars and thoroughly enjoyed the bird's-eye view of the sea, forests, and Haifa neighborhoods.
At the top, we visited the local coffee shop before heading back down the mountain. Everyone came home a little tired but full of memories and stories to share. "I am so glad I could join; it is so much better than sitting at home," said Emma.
Holocaust Remembrance Day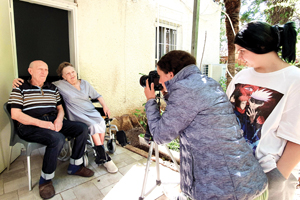 In preparation for Holocaust Remembrance Day, the Haifa Home hosted groups of young Israelis eager to meet Holocaust Survivors. One group of teenagers is studying photography at Haifa's Reut School of Arts, and they came with a special project in mind: an exhibition dedicated to the Survivors. The students spent time with different residents in the Home, taking photos and capturing their inner beauty for a photographic exhibition of the Survivors held on Yom HaShoah at the Krieger Auditorium in Haifa. The residents treasured the chance to be models for a day: "It makes me so happy to be around these young people, who are so full of life," said 91-year-old Zelda.
Passover
Right before Passover, many organizations work tirelessly to prepare food packages for needy families and the elderly so no one will go hungry during the week-long Pesach holiday. Many volunteers from local businesses, the army, and police joined our residents to prepare hundreds of holiday packages for needy Holocaust Survivors in Haifa and other parts of the country.
A group of students also came from a high school in Mitzpe Ramon in the Negev and managed to pack 200 food parcels with us in two hours. Afterward, they listened to Esti, one of our residents, tell her life story.
Swiss Adopters Visit Naomi
The Glauser family recently came from Switzerland to meet Naomi, a Haifa Home resident they have been supporting. Naomi welcomed them warmly and recounted some atrocities she had endured during the Holocaust.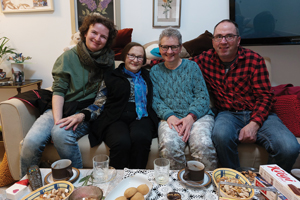 Naomi was born in Chernivtsi (today in Ukraine) in 1934. When the war began, the Nazis took over Naomi's town, forced her family into a ghetto, and sent her father to a labor camp. Naomi's uncle and aunt were also sent to a camp.
In the ghetto Naomi's family was often threatened by random gunfire, forcing them to hide in an attic for safety. One day, two Nazi officers beat Naomi's mother severely and ordered the whole family to be shot, but they were spared. Christian neighbors hid them until their liberation by Russian forces. It turned out Naomi's father was still alive. The family returned home in 1947, but their traumatic experiences stayed with them.
Despite the hardships in her life, Naomi remains resilient, and her courage truly inspired the Glauser family.
"After being in contact with Naomi for three years now, I was able to visit her for the first time with my family," said Ursula Glauser. "It was very special to see Naomi, to listen to her, and to feel her big heart. Although we brought gifts with us, I am the one who is going home richer for it. Thank you very much!"
Introducing Boris
Boris and Etta came to live in the Haifa Home for Holocaust Survivors five years ago. Boris, now 88, was born in Zaporozhe, in Ukraine, in 1934. When he was seven years old, the war came to his town. His first memory of the war is when his father rushed to their apartment and yelled something to his mother. She only had time to grab a pillow and a blanket before fleeing their home.
While German soldiers were entering their town, the family ran to the train station on the opposite side of town, where a train was about to leave. They quickly boarded a cargo car and sat on a pile of straw. Boris remembers the train faced air raids all the way to Moscow. When the German planes appeared, the train stopped, and Boris' father cried: "Get out, fast." Everyone ran from the train and hid near the tracks while machine guns fired. When the planes left, the train continued its route.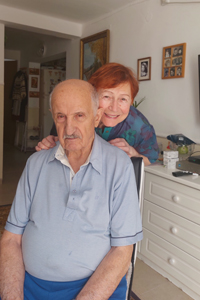 Boris' family was brought to Omsk, a small town in Siberia. The winter of 1941–1942 was freezing; temperatures dropped to –40C. The family arrived without warm clothes, suffering from the severe cold. Boris remembers once, on the way to school, his ears got so cold he became sick—and he has had problems with his ears ever since.
When he was still a schoolboy, antisemitism was rampant in the Soviet Union, and from a young age, Boris had to fight to protect himself simply because he was Jewish. He would come home with bruises all over his face. His father had to work at the military factory from early morning until late at night and could not protect his son.
After high school, Boris joined the Soviet army. One day he and some comrades took unauthorized leave and were sent to a construction unit as punishment. There he met people from all over the country, including some who did not speak Russian. In the evenings, he taught them Russian, which also helped him learn the basics of several other languages.
After his army service, Boris entered university to further his language studies. He finished the courses but did not want to become a teacher. This angered the authorities, who punished him by sending him to a distant village for his "rebellious character." A year later, he returned to Omsk and began working at a factory in the patent department. He saw different inventions made in other countries and noticed the low quality of products and life in the Soviet Union.
When perestroika ("restructuring") began in the late 1980s, the factory where he worked was closed. It was a difficult time, and crime became rampant. Boris and his wife, Etta, always felt like strangers in the Soviet Union and continually dealt with antisemitism. In 1999 they finally decided to make Aliyah to Israel.
They quickly came to love Israel, and today, they are so glad to be at the Haifa Home. The couple had to move many times in Haifa, and when they heard about our Home five years ago, they were eager to move in. They remain grateful to live in a place that takes such good care of them and where they do not have to move again.
---
Please consider supporting our Haifa home for Holocaust Survivors.