Standing with Israel in Times of Crisis
By: Laurina Driesse, ICEJ Media & Publications Director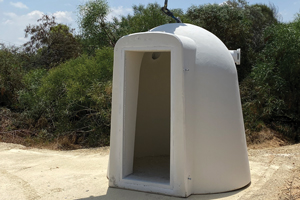 Israel is often forced to deal with sudden crises when war or natural disaster strikes. The International Christian Embassy Jerusalem (ICEJ) steps in to help vulnerable Israeli communities in these times of turmoil. When such emergencies arise, it is a tremendous testimony when Christians are the first to arrive with help.
From north to south, Israel is surrounded by Islamic terror militias with large rocket arsenals and the intent to destroy her. However, the ICEJ stands firm with Israel by providing much-needed bomb shelters to shield them against the constant threat of rocket attacks.
Thanks to our generous donors from around the world, scores of Israelis can sleep soundly, and their children can play happily at kindergartens knowing a shelter is nearby.
In 2022 the ICEJ donated another 17 new bomb shelters to protect vulnerable Israeli communities. Some were smaller, portable, bell-shaped shelters; others were medium cube-shaped mobile ones, and two were larger underground shelters that needed extensive renovations for use in important public buildings.
Ten shelters were placed last year in the Gaza border region, and seven were positioned on the northern border to protect against the rocket threat posed by the Hezbollah terror militia in Lebanon. Altogether, the ICEJ has donated 182 bomb shelters to protect Israeli communities since 2007! Each shelter displays an ICEJ dedication plaque assuring Israelis that Christian friends from around the world care about them.
Israel has the proven "Iron Dome" anti-missile batteries used to intercept medium-range rockets. But for communities within 6 to 9 miles of the Gaza border, families have a mere 15 seconds to seek shelter before the rockets land, and the Iron Dome system cannot shoot down such short-range projectiles.
In August 2022 Ofir Libshtein, mayor of the Sha'ar HaNegev Regional Council in Southern Israel, told the ICEJ that the 10 towns in his region were targeted with over 300 rockets during a three-day intense barrage from Gaza, which meant residents heard the red alert sirens hundreds of times and had to run for their safe rooms each time.
"The Iron Dome is an amazing miracle," said Mayor Libshtein. "We have found a solution to deal with 96 percent of the rockets. But because we are so close to the border, rockets hit before the alarm even sounds sometimes."
Meanwhile, the northern region of Israel is densely populated, and the Lebanese border is volatile. Many older homes do not have special safe rooms, forcing vulnerable families to run to nearby shelters in the event of a missile attack.
Most shelters we donated were placed near community and sports centers, clinics, bus stops close to community entrances, schools and kindergartens, and other public places, bringing a sense of security to the people.
"It is always so encouraging when Israelis living under this constant rocket threat tell us that our bomb shelters are indeed saving lives and giving their families the peace of mind they need to continue their daily lives in these vulnerable areas," said ICEJ President Dr. Juergen Buehler.
Many more communities located along Israel's borders remain defenseless, lacking sufficient shelters to protect them against an onslaught of rocket fire. Please consider donating toward a life-saving bomb shelter to protect more Israeli lives.

---
Please continue to give to ICEJ's "Bomb Shelter" fund so we can be ready to save more lives in Israel's next emergency.