Frail and Elderly and Holocaust Survivors Come to Israel to Avoid Danger
—Chris Chambers & ICEJ Staff
Over the summer, two hundred frail elderly and Holocaust Survivors enroute to Israel were sheltered and cared for in a nursing home in Warsaw and had medical expenses covered in Warsaw and Bucharest. Half of the frail elderly assisted by the ICEJ grant were Holocaust Survivors. This, in addition, to some 90 Holocaust Survivors rescued out of the Ukraine earlier in the year, brings the total elderly assisted by the ICEJ since the war began to nearly 300 so far in 2022.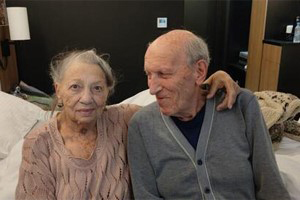 Married couple, 83-year-old Arnold and his wife Alla, arrived from the Ukraine some months ago. After having survived the atrocities of World War II, neither of them imagined they would face another war during their lifetime. Even after the Russian invasion, they were intent on surviving this one too, and remained adamant that they would stay put.
However, with each day came new battles, until finally their apartment block was hit by an enemy rocket. Miraculously, they remained unharmed even with the windows blown out and shrapnel all around.
With the freezing cold came the inescapable realization that after 58 years of marriage and endless memories, it was time to leave their beloved home in the Ukraine. Alla's health was seriously poor, so much so, she needed medical evacuation by ambulance and specialty care for her travel to Israel. Thankfully, the ICEJ's home for Holocaust Survivors in Haifa was able and ready to welcome them upon landing.
Now, more than 25 Russian speaking Holocaust Survivors live in the Haifa home. The recent addition of so many new Russian speakers made refugees by the war, means that new services and many basic items are required to help them settle in and feel at home.
Friends of the ICEJ in Russia, concerned for the well-being of the refugees, have contributed towards a Slavic language reading library to make the lives of the residents more pleasant and ease their adjustment. Excited to be able to do something practical to bless the immigrants flooding into Israel, ICEJ Director of Aliyah, Howard Flower, shared, "We have sent about 17 kilos of books from Moscow and Sakhalin and have now started raising money to buy more books from within Haifa, where there are many Russian speakers from the FSU and Slavic language bookstores."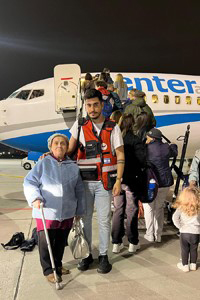 Another new resident welcomed at the ICEJ's Haifa Home is 85-year-old Holocaust Survivor, Sheila, from Ukraine. Having lost both her husband and only daughter some years ago, Sheila was left to face the bombardment of Russian forces in her hometown of Kharkiv on her own.
Sure that it was now her turn to die, she was surprised to be miraculously rescued through the efforts of the ICEJ and our local partners. She also made it to the ICEJ Holocaust Survivor's Home in Haifa at the end of April this year. Despite her trauma and suffering, she is hoping to welcome other Survivors in the months to come.
By the end of October, total Aliyah reached 58,235 according to the Jewish Agency, and it is expected to reach 61,000 very soon—a more than 200% increase over 2021. Aliyah numbers like these are approaching the levels seen during the years 1997 to 2000, when the last huge waves of Former Soviet Union (FSU) Aliyah arrived in Israel. That Aliyah was coupled with a strong revival because the Spirit of God was hovering over the land to bring the Jews home in huge numbers.
Ofek, the Israeli government's Aliyah promotion agency notes that 32,494 Russian citizens have made Aliyah to Israel in 2022. In addition, 14,450 have arrived from Ukraine, 3,280 from North America, 1,957 from France and 1,474 from Ethiopia. Also, 493 olim from the UK now call Israel home, as well as 1,000 from Argentina, 411 from South Africa, and 1,750 from Belarus. Final numbers will be published closer to the end of the year.
A more recent arrival to the ICEJ Haifa home is 89-year old Svetlana, who left Kramatorsk, Ukraine in March this year, after facing a second war in her lifetime. This time it was not the Holocaust, which started when she was just 8, but the Russian invasion, which began for her, with the sound of a loud explosion.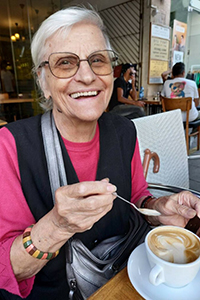 Svetlana remembers well from her childhood, climbing over dead bodies after taking refuge in the local water tower so that she and her family could survive the horrors that were to come. Again, but more than 80 years later, she was to watch as Russian forces invaded her hometown during spring.
But, thanks to the ICEJ, her new home and refuge is in Israel. She recently commented, "I can't understand what is going on in this world nowadays. It looks like everything is turned upside down. When I was a child my father and my uncle fought together with the Russians against Hitlers' Germany, but today Russian aircraft bomb my hometown, and people from Germany serve and help me."
While the numbers are still adding up, we are excited that the total number of immigrants assisted by the ICEJ in 2022 will likely be more than 5,000 this year. The ICEJ Aliyah work includes 4 steps: Aliyah promotion, preparation for Aliyah, flight/transport facilitation, and integration in the land. Promotion and preparation include such things as youth camps, informational events, seminars on employment in Israel or other informational seminars about what to expect of life in the land. It helps families make plans on where and how they'll live once they arrive. It can also include preliminary language learning. Once all the paperwork is completed and general plans are made, the ICEJ assists immigrants with things such as ground transport, extra luggage, occasional accommodation enroute, and with flights. Finally, upon arrival in the land, we support integration through essential programs such as offering mentors to advise immigrants on employment and daily life in Israel, help with vocational training/professional recertification, or by assisting with educational and children's programs and giving basic household items.
---
Help Others Make Aliyah
We hope that you will prayerfully consider joining with us to support those making the brave decision to uproot their lives and start afresh in their ancient homeland.