Inside Lana's Arduous Journey to Israel
By: Nicole Yoder, ICEJ Vice President for AID & Aliyah

Everything that has happened brought me here," began Lana—a recent immigrant from Ukraine—as we settled onto a comfortable chair in her new apartment. Lana shares the apartment with another new immigrant from Russia and quickly acknowledged the potential tension that could surface between the two since their home countries are at war. However, she insisted, "We've agreed not to bring the war here. We're both Jewish—and that is enough!"
Lana quickly launched into her life story, noting that at age 20, she had already spent six months in Israel and fully intended to make Aliyah but returned to Ukraine to complete her university studies. However, love intervened! She got married in Ukraine, became a mother, started two businesses, and then sadly, divorced—and 15 years later, started thinking again of making Aliyah. But her ex-husband would not let her leave Ukraine with their daughter, preventing her from immigrating quickly. In the meantime, she worked hard with her tourism and pet shop businesses.
Unfortunately, COVID ended the tourism business in Ukraine and negatively impacted her pet shop. This, combined with some new health problems, made Lana consider making some changes in her life.
Unhappy and wanting to explore another line of work, Lana revisited her dream of making Aliyah. This time her ex-husband agreed to let their daughter join her in Israel, so Lana began the immigration process. The two agreed that once Lana secured her Aliyah visa, she would go to Israel first to get established, find work, and study Hebrew, while her daughter stayed in Ukraine with her grandparents for the year. The plan was for Lana's daughter to join her in Israel this summer to adjust to the new surroundings before the new school year began.
All seemed to be going well. In early February this year, Lana received her Aliyah visa. Her pet shop had a buyer, allowing Lana to show up in Israel with some money to get started. But then, her flight, scheduled for February 24, was unexpectedly moved forward to February 20. Because Lana was traveling, she missed it, delaying her departure several more weeks. However, she continued with her plans to immigrate to Israel and used the time to work on renewing her driver's license, making final doctor appointments, and signing over the business. Things were looking good!
Relaxed and chatting with our ICEJ AID team from an easy chair, Lana recalled how in those final, fateful days of February, while busily preparing to leave, she was blissfully unaware of what would soon take place. Lana did not own a TV, and being "apolitical," she had no interest in current events. Plus, two friends unexpectedly needed to move into her apartment that week before she could move out as planned. Looking back, Lana shrugged her shoulders at what a crazy time it was in the old apartment.
"There were piles of boxes everywhere," she explained. "I cleared off a shelf into a box, and [my friends] emptied a box onto the shelf.… They were like family to me—especially because I hadn't talked to my parents since having a quarrel a few years ago.
"On February 23, just 7 hours before the Russian invasion began, a friend told me that a war would begin tomorrow and asked if I had packed an emergency bag. I had no idea. It totally caught me by surprise," Lana recounted. "The calls began before dawn with the terrifying news of war."
At first, Lana remained in a Kyiv basement. Her phone was dead because she did not have a charger cord. She could not reach her ex-husband, who was called up for duty. Her daughter was with grandparents, but Lana could not reach them for three days. When she did, she learned they were planning to flee and take her daughter with them. Even though Lana disagreed, they left anyway and didn't tell Lana where they went. Should she wait for them to return?
Lana also could not stay in her third-floor apartment, so she spent 10 days with her neighbors in a first-floor corridor. However, just sitting there waiting without knowing what to do was "making her crazy." She then learned that her pet store manager was stuck in a basement for 10 days without food or water due to the constant shelling—and all the animals in the store were killed. With no business to sell, Lana's plans were falling apart. She knew she had to act.
"It was the hardest decision of my life, to move on and leave my daughter behind. I'm still trying not to punish myself for it," she confided.
No flights were available, but a chance to escape opened when her neighbors offered her a train ticket to Poland leaving in two days that they could not use. Just before her departure, the government declared a two-day curfew starting that evening. She knew she had to act quickly—she had just six hours to get home, pack, and make it to the train station. To make matters worse, the Russians had bombed the electric power plant that day, leaving the city in darkness.
"We had to pack without any light," she recounted. "I got the cat, put it in a carrier, and grabbed a sleeping bag and a backpack. Truthfully, I could barely function. My younger brother did most of the packing for me. At that moment, you are living and not living. The apartment was a mountain of boxes, and you couldn't see anything. It was a paralyzing situation. I used to write a list of things to do each day. Now, if I did one thing in a day, it was a victory."
Lana laughed about what made it into the backpack. "It was an unimaginable array of disparate items, the strangest 20 kilos you could imagine. A wine opener, a black sheep chalkboard refrigerator magnet—which ironically had written on it, 'You are stronger than you think you are!' There were various clothes I had outgrown and intended to give away and only one undergarment." With this mishmash of belongings, she set out to start a new life in Israel.
"When you are packing up 35 years of your life, looking at black, painted signs at the train station, passing bombed-out buildings and dead bodies, and everyone is tired, silent, and crying … you see only the shell of a person, but the inside is empty." Lana had no money, but her neighbors were kind enough to give her $380 in cash—and with that, she rushed to the train station to wait.
She eventually arrived safely in Poland, where a friend greeted her. Later, the Jewish Agency assisted her with a flight to Israel, where she and "Nika," the cat, landed on April 5. Showing remarkable resilience, Lana completed her Aliyah process within 12 days, secured her temporary Israeli ID, opened a bank account, and somehow found the energy to start waitressing—hoping to send some money back home. However, it would not be easy, given her poor Hebrew and how expensive life is in Israel.
She had no sooner started her new job when she was hit by a motorized bicycle whose driver fled the scene, leaving her with a hairline fracture in one leg and a broken lateral ankle in the other. Even though she had received her Israeli health insurance card the day before, which allowed her to be treated and covered her more significant surgery expenses, she still had to pay several smaller medical bills.
"I couldn't even get up to get myself a drink of water," said Lana. "No family! No money! I couldn't work or even dress myself. I was in a wheelchair for a month with a cast on my leg and then a boot. I'm strong, but these kinds of things break people. Yet I knew I'd have to stand on my own feet again because I have a daughter I need to care for."
Unexpected assistance came from two new friends who helped with Lana's basic needs, and her new roommate also chipped in. Others donated clothing in the right size. Amazed, Lana said, "Sometimes help comes from a place you don't know—like the help from the ICEJ."
"When this happened to my legs, in one second, I was helpless," Lana told us. "But these legs and this problem also brought me into contact with such good people. I'm believing again in something better than war. These experiences have restored my faith in good people. Here in Israel, people who saw you for the first time in their lives were helpful. … The worst part was lying in bed here without family to rely on. … Your gift enabled me to buy food and cover some medical and living expenses. I can't thank you enough."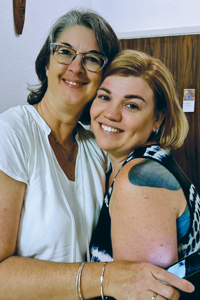 Hearing Lana's harrowing story firsthand touched us deeply. Lana was delighted when we gave her a gift package with items for her home! "Oh my! This is about my 'nesting' in my new home," she exclaimed. "You are doing such a great thing. It's just unbelievable!" But she broke down in tears as she opened our greeting card. "You didn't just buy a card with some generic message. Instead, you carefully thought out and selected each word, then translated it into my language."
Asked about her dreams for the future, Lana replied: "I want to be happy. I want to have my daughter with me. I want safety for my family and an end to the war. I dream of establishing a new life here in Israel, and I don't want to do the same things I did before. I want to do something useful—something I believe in that will help others as I've been helped. I know sales and marketing, but I want to do something creative and new."
We want to echo Lana's thanks for your generous donations that enabled us to help her and many other Jewish immigrants who have arrived in Israel after taxing journeys with next to nothing. Your gifts are truly bringing encouragement, practical help, and hope. We cannot thank you enough.
Your Chance to Help
The ICEJ is committed to helping Jewish immigrants as they make their way home to Israel and begin their lives anew here. Your generosity is making a difference for new arrivals like Lana. Please continue to support our Aliyah and integration efforts.