Homecare Brings a Memorable Touch to Passover!
By: Laurina Driesse, Director of Media and Publications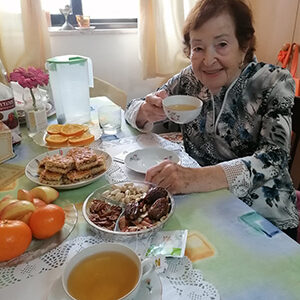 Rising early in the morning, ICEJ Homecare nurse Corrie van Maanen carefully planned her visits during the recent days leading up to Passover. She has many precious patients to see and spent time lovingly preparing Passover gifts for those under her care.
These beautiful spring days are long, as Corrie weaved her way from home to home across Israel.
Each gift package was personally given during an ICEJ Homecare visit, which always includes a cup of tea and a meaningful chat with the elderly and disabled Jewish immigrants she serves!
"The work of Homecare is done by building relationships," Corrie explained. "It is a blessing for the ICEJ that we have this work of being welcomed into the homes of these Jewish families, becoming a part of the family, and to be a blessing and a comfort to them."
Among those receiving the 120 Passover gift packages she prepared this year were a large group of Holocaust survivors, single mothers, the elderly, and those who are sick or suffering from chronic illnesses.
This Passover season, the gift packages included a much-needed food voucher, kosher chocolates, kosher matze (unleavened bread), a notebook and a beautiful card. The notebook proved to be the most popular!
"When I gave them the notebook, I suggested to begin to write their memoirs for their grandchildren or their great-grandchildren, while for those who are alone, I shared the idea to write their thoughts, especially in this challenging time. To commit them to paper, it could help to cope during this stressful time [of the war in Ukraine]," said Corrie.
The beautiful card is an aquarelle made by an artist from Holland living in Israel which reflects the Spring-time almond blossoms, and a singing bird especially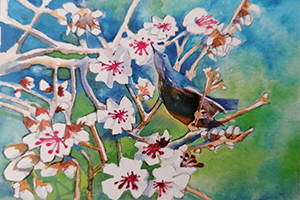 added for this season, together with the Scripture in 2 Samuel 22:2 – "The Lord is my rock and my strength and my Redeemer. My God, in Him I trust."
The cards are a treasured possession for many, with some bursting with curiosity at the kind of card prepared for them each Pesach (Passover), while others save them to later reflect upon in lonely times.
Each year as time draws nearer to the beginning of Pesach and the celebratory Seder meal, there is such a buzz throughout Israeli cities. Everyone is hurrying to do their last-minute preparations like cleaning their homes and cars or doing their grocery shopping until their shopping carts are laden like a mountain!
This observation often reminds Corrie of how the Israelites must have been in Egypt, with everyone bustling around and how they had to go out of the land in haste. In every generation a person is obligated to regard himself as if he personally had come out of Egypt.
"Against the backdrop of the war in Ukraine, this Passover delivery was a very special and different one" recounts Corrie. "For many new immigrants to Israel, it is their first Passover in the Land of Israel. So many of them too had to leave their land in haste, taking very few belongings to flee to safety in Israel."
During her pre-holiday visits, Corrie had a brief conversation with an elderly couple who had to leave in such a hurry, with only one suitcase filled with documents and other necessities.
"After a few weeks, they are wondering what they have done by leaving and questioning what lies ahead of them. This too is how the Israelites must have felt as they hurried to leave Egypt and started their journey," Corrie remarked.
Corrie inspires them by reminding them of the Scripture that the Aliyah from the north will be larger than the exile out of Egypt, using Jeremiah 16:14-15 as her reference.
"You may ask yourself those questions of why you had to leave. But the God of Israel knows where you are and He wants you to be in Israel, because if is fulfilling His Word," Corrie told them.
Many of those who Corrie regularly visits still have family or friends in Ukraine, and they are concerned for them. During these visits, Corrie sees their veil of sadness as they begin to share their concerns with her.
"It is such a blessing that they have someone who they can trust with their deepest concerns," said Corrie. "Someone mentioned to me last week that celebrating the holidays is like the cement of Homecare. It is gluing all the work together in relationships."
---
Please continue to support the wonderful work of ICEJ Homecare. Through your giving, more elderly and disabled Jews can receive comfort and care.