ICEJ Welcomes First Flights of Rescued Ukrainian Jews
By: David Parsons, ICEJ VP & Senior International Spokesman
Israel is scrambling to rescue thousands of Ukrainian Jews in harm's way and bring them home to safety in Israel. The first flights bringing these Jewish war refugees to Israel landed on Sunday in what has been dubbed "Operation Israeli Guarantee," and the International Christian Embassy Jerusalem is doing our part to help fund this urgent and historic rescue Aliyah effort.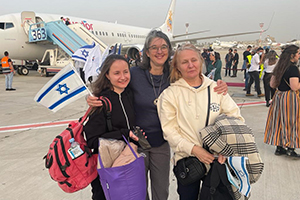 Last week, hundreds of Israeli citizens living in Ukraine began returning home on daily flights from Eastern Europe to escape the widening Russian invasion. But on Sunday, the first flights bringing Ukrainian Jewish immigrants to safety in Israel landed at Ben-Gurion Airport. The 300 Jewish olim (newcomers) who arrived on Sunday were evacuated from across Ukraine over recent days and then held in temporary housing in Poland, Romania and Moldova until their Aliyah process could begin.
The first Aliyah flight landed mid-day with some 90 Jewish children from a Chabad-run orphanage in the central Ukrainian city of Zhytomyr. The youngsters, aged 2 to 12, had walked through freezing cold and snow to cross the border into Romania several days ago. Israeli Prime Minister Naftali Bennett was waiting on the tarmac to greet them, having just returned from a surprise weekend meeting in Moscow with Russian ruler Vladimir Putin in a bid to secure safe passage routes for refugees in Ukraine and help mediate an end to the conflict.
Later in the afternoon, two more flights with another 200 Ukrainian Jewish immigrants landed at Ben-Gurion Airport, where they were warmly received by a welcoming party which included Israeli officials as well as Nicole Yoder, the ICEJ's VP for Aid & Aliyah. Nicole noted that the vast majority of the arriving passengers were women and children and the elderly, as Ukrainian men between 18 and 60 were required to stay behind and join the battle to defend their country.
Israeli authorities and the Jewish Agency for Israel are organizing the urgent evacuation and Aliyah operation to rescue endangered Ukrainian Jews, with financial support from many Jewish and Christian donor organizations, including the ICEJ.
Speaking to media outlets covering Sunday's arrival ceremony, Sam Grundwerg, World Chairman of Keren Hayesod, thanked Christians for joining with Jewish communities worldwide to help fund the immense task of evacuating Jews from Ukraine.
"It's unbelievable to see this outpouring of help and support," said Grundwerg. "And I want to send from here in Israel blessings to all of our friends who are rising to the occasion to help us in this dark hour, but will end up being, when we look back, also a moment that we shine brightly thanks to your help and support."
Thousands more Ukrainian Jews are already making the long and treacherous journey to reach Ukraine's western border and cross over to safety in neighboring countries, where they will be placed in temporary accommodations while opening the process to immigrate to Israel under the Law of Return. Thus, many more Ukrainian Jews will be arriving on rescue Aliyah flights to Israel over coming weeks. They are being classified as "war refugees," which means they will receive extra government assistance, but Israel and the Jewish Agency also are appealing to their Christians friends and supporters to help fund this mammoth rescue operation.
With millions of Ukrainians fleeing the intense shelling of their cities and Russia's economy also tanking under the mounting pressure of international sanctions, Israeli officials say they expect as many as 100,000 Ukrainian and Russian Jews to make Aliyah in the coming year or so, depending on how the conflict plays out. Counting those who are Jewish and their immediate families, there are an estimated 200,000 Ukrainians and more than 600,000 Russians who are eligible to immigrate to Israel.
As the Christian Embassy continues to do our part in "Operation Israeli Guarantee," we will be placing a special priority on trying to rescue aging Holocaust survivors from Ukraine, which saw some of the worst atrocities of the Nazi genocide against the Jews of Europe in World War II. We are exploring ways to locate and bring out safely many Holocaust survivors and fly them to Israel. The hope is that some will even begin their new life in Israel at the ICEJ's unique Home for Holocaust survivors in Haifa, where our team of Christian volunteers are already waiting to help care for them.
---
Please give today to this very urgent effort to save Ukrainian Jews.