ICEJ Supporting Fun and Fruitful Aliyah Summer Camps
By Anastasiya Gooding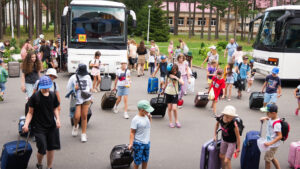 In the Jewish world, summer camps are a big thing—especially the opportunity to get outdoors and meet other Jewish children, make new friends, and build fun memories together.
This summer, ICEJ sponsored special summertime camps for Jewish youths in Latvia, Belarus, Russia, and other former Soviet republics. These special Aliyah camps prepare the children to immigrate to Israel and are an important step in their journey home to the promised land. For this reason the Jewish Agency partners with the Christian Embassy, among other organizations, to host them each summer.
So far this year, the International Christian Embassy Jerusalem has assisted with six Aliyah summer camps that have served 324 participants:
Baltic States: 100
Belarus: 102
Russia: 122
Total: 324
One exciting development is that the JAFI summer camps have not stopped even with the coronavirus threat. Of course, there are health precautions, but hundreds of Jewish children have had the chance to enjoy the fresh air and sunshine in these beautiful resorts this summer, thanks to our Christian supporters worldwide.
The JAFI summer camps have proved to be the most effective way of introducing Jewish children to Israel and telling them about the youth Aliyah programs available to them, such as the Na'ale and Sela programs, which the Christian Embassy has been supporting for more than 15 years. These youth Aliyah programs have been a huge success over the years in bringing Jewish children to Israel ahead of their parents and then helping their parents acclimate once they arrive. Thus, it has been a great blessing for the ICEJ to support these unique and highly successful pre-Aliyah summer camps.
One camp held in Belarus was the Super Summer 5781 Festival, which included a visit to an estate that once belonged to an influential Jewish family. At the beginning of the festival, participants learned about a diary that once belonged to David, one of the younger members of this family. Every day, the campers scrolled through the diary of David, one page per day, discovering new aspects of the life of this Jewish family—such the chuppah (wedding canopy), bar mitzvah, Shabbat meals, and many other life events and experiences. As the children immersed themselves in the history of this Jewish family to get better acquainted with Jewish culture and traditions, they were encouraged to form their own approaches toward them. The entire time, a unique atmosphere reigned in the camp.
Currently, life in Belarus is difficult, and parents want their children to have a better life in Israel. Soon many of the children who participated in these summer camps will make Aliyah with their parents or on their own as part of a "Youth Aliyah" program designed to help young Olim and students take their first steps toward a new life in Israel.
Just last month, the ICEJ helped with another very special Aliyah summer camp called the "Mezuza Fest," held at a resort on a beautiful lake in Northern Russia away from the hustle-and-bustle of the city. Jewish children gathered from all over Northwest Russia for a camp that also involved their parents.
The ICEJ arranged transportation and Israeli-dance classes—including the amazing and popular "Jerusalema Dance Challenge," a concert of Jewish music and a virtual tour of Jewish St. Petersburg. This was all provided in collaboration with the main Jewish community in St. Petersburg as part of an innovative program to encourage Aliyah and help the children build their Jewish identity.
One of the most impressive results from the summer camps is that the children are exposed to Youth Aliyah programs, such as the Na'ale program, which enables students to take a year of preparation and testing in Jewish studies while they finish their last years of high school in Israel. Most children who participate are around 15 to 17 years old, and 96% of them decide to make Aliyah, with 60% of their parents joining them within a year or two.
With these success rates, we urge you to please consider supporting the ICEJ's Aliyah efforts as we continue to reach out to the younger generation of Jewish people to help them take their first steps in the journey back to their ancestral homeland in Israel.