ICEJ global response to the libel that Israel is an apartheid state
Cape Town Declaration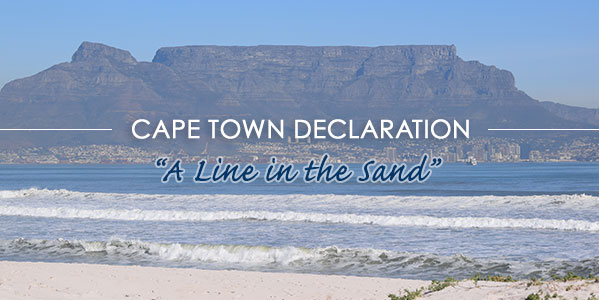 Preamble
In the course of world affairs, there are times when people of good conscience are compelled to stand courageously and proclaim certain undeniable truths. There also are places where declaring these truths is all the more appropriate.
Over recent decades, a falsehood masquerading as a truth was sent forth deliberately from a place that only enhanced the power of that lie. The libel that Israel is an apartheid state akin to the racist regime which once ruled South Africa, issued forth from the Durban conference on racism in 2001, has caused extensive harm worldwide in fostering racial hatred and anti-Semitism and spawning a misguided boycott movement against the state of Israel that is ungrounded in reality and wholly counterproductive to peace. So as Christian leaders gathered from all over the world in Cape Town, South Africa, we are here to proclaim a message of undeniable truth in order to put that lie to rest.
As representatives of millions of Christians around the globe, we are here to reaffirm that Zionism is the legitimate national liberation movement for the return of the Jewish people to their ancestral homeland and the modern-day restoration of Jewish sovereignty in the Land of Israel after 2000 years of exile was and remains a consummate act of historic justice.
Accordingly, we wish to address current theological and political questions pertaining to Israel.
Read the full statement here: Cape Town Declaration (pdf)