Netanyahu Seeks Legacy-Sealing Deal with Saudis
By: David Parsons, ICEJ Vice President & Senior Spokesman
The impact of the Abraham Accords continues to reverberate throughout the Middle East, and returning Israeli Prime Minister Benjamin Netanyahu certainly hopes to build on their momentum, especially by sealing a historic breakthrough with Saudi Arabia. But Riyadh (Saudi Arabia's capital) is signaling any deal first depends on rebuilding their frayed relations with the United States. 
Two years on, the Abraham Accords are still bearing good fruit in the region. Bahrain and the United Arab Emirates continue to expand their trade and investment ties with Israel, while Morocco is now welcoming scores of Israeli tourists. Jerusalem's relations with Egypt also continue to warm, and the Negev Forum countries recently met again in Abu Dhabi and are planning an even larger regional summit in Morocco this spring. Hopes also are growing that perhaps Indonesia and other key Muslim nations further afield may soon open ties with Israel. 
However, not everyone is joining the bandwagon. Sudan may have signed the Accords, but it is too fractured to contribute anything to the normalization process. And while Oman was seen as the next possible Arab state to reconcile with Israel, its new leader is leaning closer to Iran, and its parliament recently voted to criminalize any interactions with "the Zionist entity." 
Meantime, Jordan just skipped the latest Abrahamic gathering again. Even though the Hashemite kingdom has a long-standing peace treaty with Israel, most of its population identifies as Palestinians and rejects any move to deprioritize the Palestinian cause. Instead, Amman has upped its rhetoric against Israel concerning Jerusalem and the Temple Mount and even turned down Israel's recent offer to supply the energy-strapped nation with natural gas. 
For Netanyahu, the best response to Jordanian and Palestinian obstinacy is to seek a normalization pact with Saudi Arabia—the biggest prize left in the region. Returning to power in late December, he made clear in his first Knesset speech that this was his main foreign policy goal, contending that peace with Riyadh would leave Jordan and the Palestinians too isolated to continue rejecting peace with Israel.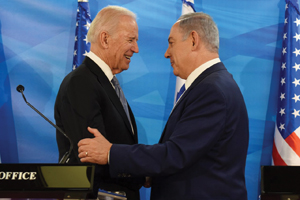 For their part, the Saudis recently indicated to a visiting delegation of American Jewish leaders they indeed are ready for a historic rapprochement with Israel, but it is first contingent on improved relations with Washington. Riyadh has watched the Biden administration return to Obama-era policies of appeasing Iran despite its relentless drive for nuclear weapons, while US President Joe Biden has labeled Saudi Crown Prince Mohammed bin Salman a "pariah" and "murderer" following the death of journalist Jamal Khashoggi. 
The Saudis retaliated last October by lowering oil output despite Biden's plea to increase production to ease the global energy crisis, a move that embarrassed the Democratic leader just before the US midterm elections. Biden threatened to impose "consequences" on Riyadh, marking a new low in US-Saudi relations. 
As a result, the Saudis reportedly told their recent Jewish visitors they had three key demands to reach a peace deal with Israel, none of which involved the Palestinians. 
First, they seek a written agreement enshrining Saudi Arabia as a strategic partner of the United States and committing Washington to come to Riyadh's defense if attacked. 
Second, they seek a preferred ally status, which would ensure the reliability of American weapons sales. When signing the Abraham Accords, the United States reportedly promised the United Arab Emirates it would be able to purchase the new F-35 stealth fighter, and no doubt, Riyadh expects the same. 
Finally, the Saudis want American help to develop a peaceful civilian nuclear program that would allow them to enrich uranium. 
This wish list has left Netanyahu in the position of playing mediator to repair the broken US-Saudi relationship. He has already pledged to convince his "old friend" Joe Biden to reaffirm Washington's commitment to its traditional allies in the Middle East, a move he claims will greatly stabilize the region. It also will lead to a major leap in the budding peace between Israel and the Arab world. And ultimately, he contends, it will facilitate a peace deal between Israel and Palestinians. 
To be successful, Netanyahu must not only persuade Biden to change course on the Saudis, but he also must rein in right-wing members of his governing coalition who want to expand and fully legitimate the settlement enterprise. They did promise not to stand in his way on making peace with Riyadh, so we will soon see if the veteran statesman can indeed broker a legacy-sealing deal with the guardians of Mecca and Medina.