ICEJ Commentary
Cautious Saudis 'slow walk' Peace with Israel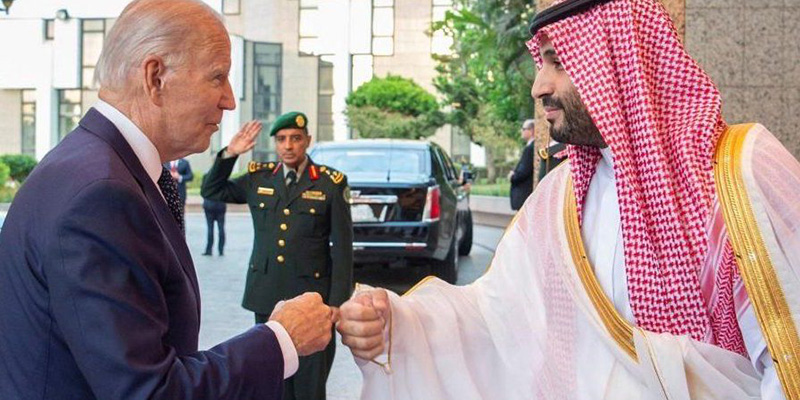 During his visit to the region last week, US President Joe Biden raised hopes of an imminent breakthrough between Israel and Saudi Arabia, but he fell short when the Saudis greeted him with a cold shoulder in Jeddah. The cool reception signaled Saudi Crown Prince Mohammed bin Salman was personally tiffed by Biden's previous criticism of his rule, as well as the American (and Israeli) media leaks of recent covert meetings which led to those heightened expectations. The lesson for Israel is that the Saudis are still interested in normalizing relations – largely due to the Iranian threat and the benefits of tapping into Israeli hi-tech solutions – but they prefer a slow, discreet walk towards peace.
After three packed days in Israel, Biden boarded the first direct flight from Ben-Gurion Airport to Saudi Arabia last Friday amid reports he was effectively forging a regional Israeli-Arab military alliance against Iran, and even higher hopes he might pull off a dramatic diplomatic breakthrough between Jerusalem and Riyadh. However, it soon became evident upon his arrival that the Saudis did not share his urgency and ambitious agenda.
To begin with, Biden disappointed his own political base by fist-bumping bin Salman upon arrival, which was seen by progressives back home as an even friendlier gesture than a handshake. This was particularly so after Biden had publicly vowed to treat the Saudi ruler as a "pariah" for allegedly approving the murder of dissident journalist Jamal Khashoggi in Turkey in 2018. When Biden quickly confronted bin Salman over the grim incident, the Crown Prince instantly fired back with pointed questions about the unresolved death of Al Jazeera reporter Shireen Abu Akleh in Israel and the infamous abuse of Arab captives by American troops in Abu Ghraib prison in Iraq some two decades ago.
Even before Biden landed, the Saudis were already dousing hopes of any looming diplomatic opening. As Biden bid farewell to Israeli caretaker Prime Minister Yair Lapid, the two were elated by the Saudi announcement they would open their airspace to all airlines, with the US president hailing it as a "a big deal" and "the first tangible step" towards Israeli-Saudi normalization. But while Biden was enroute to Jeddah, Saudi Foreign Minister Prince Faisal bin Farhan countered that the opened airspace had "nothing to do with diplomatic ties with Israel" and was "not in any way a precursor to any further steps" toward normalization.
A second Saudi cabinet minister, Adel al-Jubeir, soon added that while peace with Israel is "possible" and a "strategic option," it would first have to wait for the creation of a Palestinian state with eastern Jerusalem as its capital.
Surprisingly, the United Arab Emirates – which has already established ties with Israel in the landmark Abraham Accords – also dampened expectations over Biden's visit, with a key royal advisor stating that "the UAE is not part of any axis against Iran."
Even Biden's most urgent action item – getting the Saudis to increase oil production to replace sanctioned Russian oil due to the Ukraine war – was met with disappointment, as Riyadh only offered a two-month commitment of a modest uptick in petrol supplies for the troubled global energy market.
Americans must now sort out the national fallout from Biden's less than stellar Mideast trip, but Israelis need to draw their own conclusions about what it all means for their country.
First, the regional dynamic between Israel and its Arab neighbors remains positive overall for the Jewish state. Much of the Israeli-Arab coalescing of late has to do with the Iranian threat, and that impetus is only going to keep driving them together, as a key Iranian official just declared that Tehran now "has the technical ability to build a nuclear bomb."
Second, Israelis also know any real, lasting peace in the region is usually worked out by and between the local players themselves, and sometimes the less outside interference the better.
Third, Israelis surely realize Biden had made it personal between himself and bin Salman, and the Crown Prince was not interested in handing the American president any real wins in his visit to the Kingdom. Instead, he exploited Biden's need for extra Saudi oil production and regained some of the legitimacy lost over the Khashoggi affair.
The Saudi leader also made clear that he does not like leaks to the press – such as the disclosure that IDF chief-of-staff Gen. Aviv Kochavi had recently met with his Saudi counterpart as part of a secret regional summit of top Israeli and Arab generals to discuss possible military and intelligence cooperation against Iran. Israel needs to keep that in mind going forward.
On this point, Israeli-American author and entrepreneur Avi Jorisch told the ICEJ Weekly Webinar that the US and Saudis quietly signed some 18 unheralded but important agreements on various cooperative efforts coming out of Biden's visit, and this included a lucrative deal for solar energy development involving an American company that Riyadh well knows has an Israeli R&D subsidiary vital to the deal.
Jorisch also noted that Israel had discreet trade and investment ties with the Emirates and Bahrain for several decades before they ripened into the Abraham Accords. He was involved in the development of those economic ties and is now working on similar initiatives with Saudi Arabia. In fact, in May he led a high-level delegation of some 50 Jewish CEOs of major global companies on a first-ever visit to Medina no less, which historically has been off-limits to non-Muslims.
In meetings with Saudi government, business and religious leaders, Jorisch found there was much mutual respect and interest in working together, even though their hosts knew several Israeli nationals were there traveling on foreign passports. Thus, he believes the same process and trend of normalization which took place with the UAE and Bahrain is now happening with the Saudis, but because of the special role they play as guardians of Islam's holiest sites, the Saudis are traditionally cautious and will slow walk the path to peace with Israel.
Finally, Israelis should understand the Saudis are very proud of their 2002 peace plan (even though it was actually dreamed up by New York Times columnist Thomas Friedman), and they will continue to publicly insist on a two-state solution under its terms, even while quietly making deals with Israel for their own self-interest.
—by David Parsons, ICEJ Vice President & Senior Spokesman and Lily Sironi, ICEJ Arise Director
Learn More:
Are Saudi leaders as ready for peace and normalization with Israel as we were led to believe during President Biden's visit to the region last week?
Watch this ICEJ Weekly Webinar to hear timely insights from an Israeli author and innovator who recently visited Saudi Arabia with a Jewish delegation. ICEJ VP & Senior Spokesman David Parsons spoke with Avi Jorisch about the slow walk towards an Israeli-Saudi breakthrough.
---
I welcome you to join us for other informative webinars featuring global leaders speaking on topics specifically geared for Israel-minded Christians join us each Thursday. 
Recent topics have included:
The Biden Visit
The Blessing of Abraham
Is Israel Winning It's Shadow War with Iran
Paul the Jewish Apostle
The Church and the Kingdom of God- Pentecost/Shavuot – Part 2
The Birth of the Church – Pentecost/Shavuot – Part 1
Jerusalem Day
Turf War Over the Temple Mount
The Global Reach of Christian Zionism
Israel's Rebirth as a Nation – The Global Impact: A Yom Ha'Atzmaut Special
The Power of Resurrection
The Passover Connection: Pesach and Passion Week
The Importance of the Negev Summit
First Hand Accounts of Rescuing Holocaust Survivors from Ukraine
Impact of the Ukraine Conflict on Israel
Ukraine and the Message of Purim
Update on Rescue of Ukrainian Jews
Update and Prophetic Thoughts on Ukraine
The Continuing Impact of the Abraham Accords
These webinars take place on Zoom: on.icej.org/ICEJWebinar.
We hope you can join us.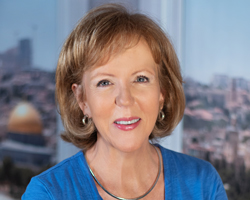 For Zion's sake,
Susan Michael
USA Director