June 16-28, 2022
Arise Summer Tour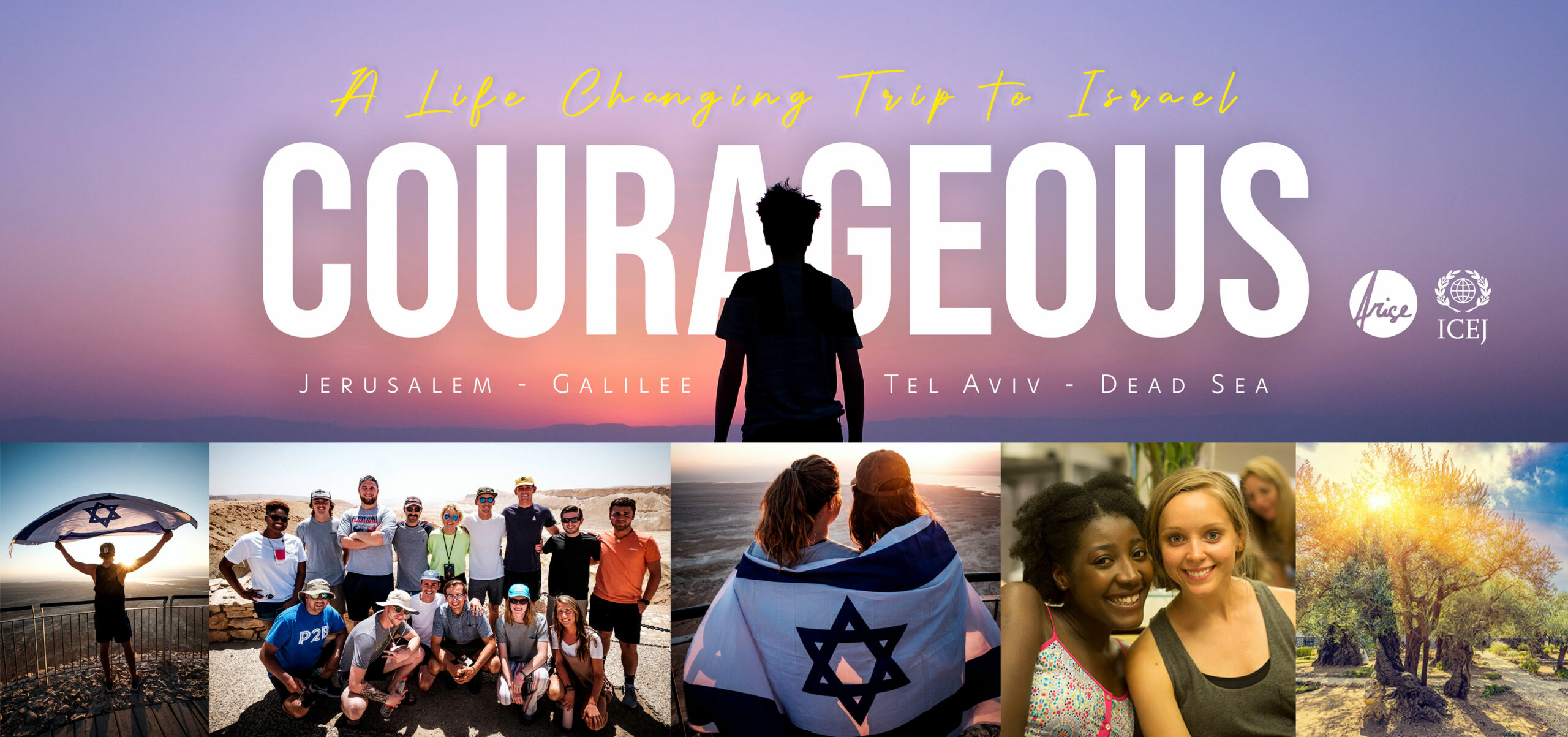 June 16-28, 2022 // Ages 18-32 // Land Package $2,095
Join the Arise Summer Tour 2022 for a life changing trip to the Holy Land! In these unprecedented times we are inviting you to be COURAGEOUS and take the leap of faith on the journey of a lifetime to the Land of ISRAEL. If you are a Young Adult ages 18-32 and have a desire to see the land of the Bible, register by clicking on the button below.
Show God's love for the people through practical outreach projects and experience firsthand what God is doing in Israel today.
Make new friends from all over the world as we pray, worship, learn, laugh and experience Jesus together in the Holy Land.
Together let's explore the area of the Sea of Galilee, visit the Golan Heights and pray for the neighboring countries, walk through the Old City of Jerusalem or take part in a Shabbat meal, be a helping hand through a social project, worship under the stars in the desert, ride a camel and sleep in a Bedouin tent in the desert, float in the Dead Sea, explore the ancient city of Jerusalem, visit amazing archeological sites, hike Masada before sunrise, relax on some of the most stunning beaches in Israel… and much more!
Register Today
Package Includes
• Meeting and assistance upon arrival
• Transfer from the airport upon arrival and departure
• 11-12 nights hotel accommodation
• Half Board Accommodation (breakfast and dinner)
• All excursions and entry fees to national parks
• English-Hebrew Licensed Tour Guide
• Arise Youth Leaders for assistance/prayer/devotions/laughs
• Modern Air Conditioned Bus
• Bus with WIFI onboard
• Welcome Kit
• 1 Mineral Water per day per person
• 1 group lunch
Package Does Not Include
• Flights
• Travel Insurance
• Any Covid 19 related expenses
• Entrance visa fees (if required by your country of origin)
• Lunches (US$8-US$14 per lunch depending on location and food preference)
• Tips (100$ per person)
• Personal expenses (snacks, souvenirs, etc.)
June 16-28, 2022
Tour Itinerary

THU, Jun 16 (Day 1 Arrival)
Check in at Hotel
Dinner and overnight TLV
FRI, Jun 17 (Day 2 Tel Aviv)
Explore Old Jaffa including St. Peter's church and the Arab Market
Walk to Shuk HaCarmel, wander through Tel Aviv's largest outdoor market
Time to swim at TLV beach
Shabbat Dinner at the Hotel
SAT, Jun 18 (Day 3 Going North)
Arrive at Mt. Carmel where the prophet Elijah defied the prophets of Baal tour the Carmelite Monastery
Take a boat ride on the 'Jesus Boat' out onto the waves of the Sea of Galilee and experience the Sea as Jesus and his disciples did
Arrive at Yardenit Baptismal site on the Jordan river for a baptism service for all those that wish to get baptized in the waters of the Jordan
Time permitting, swim in the Sea of Galilee at Bora Bora private beach
Dinner and overnight at Tiberias Hotel
SUN, Jun 19 (Day 4 The Golan Heights)
Volunteer at the Beautiful Land Initiative and help to clean the shores of the Sea of Galilee
Tour Banias the biblical site of Caesarea Philippi mentioned in the Gospels
Lunch at the Druze Village
Misgav Am- visit the kibbutz that sits on the Lebanese border and learn about Israel's security threats from Hezbollah in Lebanon
Worship Night with Joshua Aaron and teaching by Pastor Saleem Shalash
Dinner and overnight at Tiberias Hotel
MON, Jun 20 (Day 5 Galilee to the Shomron)
Drive south along the Jordan valley to Har Bracha, the Mt. of Blessings, in Biblical Samaria
Visit the Waller family at Hayovel with possible service project
Arrive at Kfar Hanokdim Bedouin Camp- experience desert nomad lifestyle, sleep in the Bedouin tent, ride camels, Hafla tea ceremony and evening bonfire
Dinner and overnight at Kfar Hanokdim
TUE, Jun 21 (Day 6 Desert and Dead Sea)
Early morning hike of the Jewish fortress of Masada with time to watch the sunrise over the Dead Sea
Float in the Dead Sea at the Ein Bokek beach
Drive to Jerusalem and stop at Harmon HaNatziv Panoramic view of the city
Dinner and overnight at Jerusalem Hotel
WED, Jun 22 (Day 7 Hebron and Bethlehem)
Tour King David's capital city of Hebron and the Tomb of the Patriarchs and Matriarchs where Abraham and Sarah, Isaac and Rebecca, and Jacob are buried
Lunch in the Shepherds fields for traditional Arab food
Visit the Pastors Steven and Naim Khoury in Bethlehem, Christian Arab Palestinians
Dinner and overnight at Jerusalem Hotel
THU, Jun 23 (Day 8 Jerusalem)
Visit Yad Vashem, Israel's Holocaust Museum
Friends of Zion Museum
ICEJ HQ Visit- meet ICEJ leadership and learn about the mission of the Christian Embassy, as well as a time with Holocaust Survivor Eva to hear her story
Dinner and overnight at Jerusalem Hotel
FRI, Jun 24 (Day 9 Jerusalem)
Tour the Jewish Quarter of the Old City including the Cardo, Hurva Synagogue, the Western Wall and the Western Wall tunnels
Drive to the Arugot Farm in Ma'ale Amos where the prophet Amos lived and King David hide from Saul. Possible swim time at the ecological pool
Traditional Shabbat dinner with Jeremy Gimpel and Ari Abromovitch
Dinner and Overnight at Jerusalem Hotel
SAT, Jun 25 (Day 10 Jerusalem)
Mt. of Olives overlook and walk down to the Garden of Gethsemane where Jesus was betrayed and arrested
Visit the Garden Tomb, the second possible site of Jesus' death, burial and resurrection
Mt. Zion- visit the site of the Upper Room and the Last Supper
Walk the Via Dolorosa to the Church of the Holy Sepulcher the first possible site of Jesus' death, burial and resurrection
Dinner and overnight at Jerusalem Hotel
SUN, Jun 26 (Day 11 Jerusalem)
City of David- Tour Israel's most miraculous archaeological site where the Palace of King David has been uncovered along with King Hezekiah's Tunnel and the Pilgrimage Road
Machane Yehuda Market Tour
Attend King of Kings Jerusalem Congregation Service
Worship Night at the Jerusalem Prayer Tower with Local Messianic Artist
Dinner and overnight at Jerusalem Hotel
MON, Jun 27 (Day 12 Gaza Border)
Drive to the Gaza border town of Sderot
Security update from Project Lifeshield founder Shmuel Bowman
Tour Kibbutz Yad Mordechai
Return to Jerusalem for free afternoon
Farewell Dinner and overnight at Jerusalem Hotel
TUE, Jun 28 (Day 13 Departure)

Reminders and Disclaimer
The tour costs 2,095 USD. We require a 250 USD deposit before April 15, 2022. Registration is only complete upon full payment, final payment must be made by the May 13, 2022.
In order to assist us in arranging transportation upon your arrival, flights should be booked to arrive at Ben Gurion Airport, Tel Aviv before 5pm on 16th of June. If you arrive on a date before the 16th of June, please contact us in order to organize your transfer.
Itinerary may be subject to change due to unforeseen circumstances.
For more information, please send an email to peter.ecenroad@icejusa.org
Arise Tour Terms and Conditions // Registration Fees and Cancellation
We require a 250 USD deposit before April 15, 2022. Registration is only complete upon full payment, final payment must be made by the May 13, 2022.
50% Refund of Tour price – cancellation from 90 to 31 days prior to June 16
0% Refund of Tour price – Cancellation from 30 days and less prior to arrival
Refunds on unused or changed tour arrangements
All voluntary unused tour services or features including hotel accommodations, ground transportation and sightseeing tours are neither refundable nor exchangeable.
Limit of responsibility
This confirms that you have read, understood and agreed to each and all of the above conditions and limit of responsibility.
Insurance
All foreign nationals wanting to visit Israel must provide proof of a travel medical insurance policy that does not exclude coverage for COVID-19. Arise ICEJ does not provide travel insurance. The insurance must cover covid related expenses in the country such as mandatory isolation should you receive a positive test result upon landing in Israel.
Passports and Visas 
A valid passport is required for all tour participants and the passport must remain valid for at least six (6) months after the scheduled return of the tour. If an entry visa is required, the participant is responsible for obtaining that him or herself.
Itinerary
Itinerary may be subject to change due to unforeseen circumstances.
Medical Conditions and Allergies
You must notify Arise Tour Leadership of any serious medical conditions or allergies that will affect you or the group on the trip.
For more information, please send an email to peter.ecenroad@icejusa.org
Register Today