The Season of Hate at the UN
—by David Parsons, ICEJ Vice President & Senior Spokesman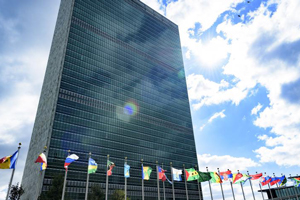 This should be a joyous time of year, with Hanukkah and Christmas to celebrate and a New Year to ring in. Instead Israel is once again enduring a 'Season of Hate' sponsored by the UN. For Israelis, the holiday season is a time of facing hatred and defamation at the United Nations. Before they can enjoy any festivities, the Palestinians are first empowered by the community of nations to level venomous accusations and pass odious resolutions unfairly condemning the Jewish state and people. And this ugly tradition must stop!
For decades now, the Palestinians have used the anniversary date of the UN Partition Plan, adopted on November 29, 1947, to launch several weeks of pre-programmed anti-Israel invective at the UN General Assembly. This annual hate-fest officially opens with an international day of solidarity with the Palestinian cause in the UN. That occasion is followed by the passage of a series of 15-to-20 well-worn annual resolutions vilifying Israel as well as reauthorizing the mandates and budgets of certain standing agencies within the UN Secretariat to continue spreading their anti-Israel propaganda year-round.
So just as Christmas and Hanukkah always come around this time of year, this fortnight of anti-Israel hatred has become a regular part of the UN calendar, as if it were normal and to be expected. Well, it is not! And it is time to tell our nation's leaders and the diplomatic corps in particular that it is a mark of shame to permit this to go on any longer.
For the past 45 years, the UN has abundantly demonstrated its contempt for the Jewish state in a myriad of ways, including through these annual resolutions, which have created an internal infrastructure to perpetuate the anti-Israel atmosphere within its various organs. In 1975, the UN General Assembly passed its infamous resolution denouncing Zionism as a form of racism. But very few know that this resolution also was accompanied by the creation of two uniquely discriminatory institutions within the UN system: the Committee on the Exercise of the Inalienable Rights of the Palestinian People (CEIRPP) and its staff body, the Division for Palestinian Rights (DPR).
Thankfully, the "Zionism is Racism" resolution was eventually repealed at the urging of US President George Bush just ahead of the 1991 Madrid Peace Conference. But its operational arms, the Committee and the Division defending the "inalienable" rights of the Palestinians, were never decommissioned and they have carried on with their devious work to this day. A third in-house agency, the Special Committee to Investigate Israeli Human Rights Practices, had already been operating since 1968 and continues to monitor Israeli actions only and castigate it alone for human rights abuses.
This trio of agencies operate under the auspices of the UN Secretary General and are solely dedicated to propagating the worst lies against Israel. They arrange global conferences which pillory Israel and little else. They hector world leaders on behalf of the Palestinian "right of return" and other maximalist positions whose end-goal is eradicating Israel as a Jewish state. They push the skewed Palestinian narrative. And they have been a major contributor to the Israel=Apartheid and BDS campaigns of recent decades.
This means that the annual outlays of our respective nations to the UN are going to pay for Palestinian poison against the Jewish state and people, produced within the offices of the Secretariat itself. And this is all approved by esteemed diplomats on a yearly basis right before they all go off to celebrate the wonderful holiday season.
Why this disgraceful situation is so under-reported by the media is a mystery. We all saw stories this week on how a few nations did change their votes on one of these imbalanced anti-Israel resolutions – the one unjustly criticizing Israel's record on Jerusalem which mentioned the "Haram al-Sharif" while dropping any reference to the "Temple Mount." But it would really help to give the wider context here!
Inside the UN bureaucracy in New York are three special departments expressly created to peddle Palestinian propaganda and they are constantly working behind the scenes for passage of these "November 29 resolutions" each year. At this very same time, they also are lobbying the nations to authorize and fund their continuing operations. In the history of this world body, such an arrangement is unprecedented for inequity and malice towards a member state.
Alas, there is some good news to report. According to Gil Kapen, executive director of the American Jewish International Relations Institute (AJIRI), a think tank affiliated with B'nai B'rith International, some nations are starting to wake up to this intolerable haranguing of Israel. For several years now, the number of nations voting for the one-sided anti-Israel resolutions this time of year has been steadily declining. Several notable European nations in particular are now voting against the resolutions or at least abstaining or absenting themselves. Palestinian leaders have taken note of this and to avoid embarrassment they actually have started offering fewer or less strident resolutions. And the number of nations supporting the re-authorization and funding of the Palestinian propaganda departments within the UN system also is dropping.
Some of this shift in voting patterns has to do with the diplomatic breakthrough of the Abrahamic Accords, which have seen more and more Arab nations opting to normalize relations with Israel. Some of it is due to courageous diplomats like US Ambassador Nikki Haley, who boldly challenged the bullying of Israel by her colleagues at the UN. And some of the shift arises from the simple realization by more and more nations that these official UN departments promoting an unqualified Palestinian "right of return" are essentially working for Israel's destruction, and thus undermining any prospects for peace.
With a little push from Israel's many Christian friends and admirers worldwide, we could finally see an end to this sordid state of affairs by shutting down for good the Palestinian propaganda machine working inside the UN apparatus itself. It is time to tell our respective national leaders and diplomats to scrap forever the Committee on the Exercise of the Inalienable Rights of the Palestinian People, the Division for Palestinian Rights, and the Special Committee to Investigate Israeli Human Rights Practices.
If Christians come together with their local Jewish communities around the globe, I believe we can send a powerful, unified message to end this charade, so that come next Christmas and Hanukkah season, our Israeli friends will not have to face this toxic annual hate-fest at the UN.
---
FOR MORE on this topic, make sure to watch the ICEJ weekly Webinar on "Ending the Israel Hate-Fest at the UN," from Thursday, 9 December 2021, hosted by David Parsons and featuring Gil Kapen, Executive Director of the American Jewish International Relations Institute-B'nai B'rith International.