ICEJ on the Frontlines of Israel's Battle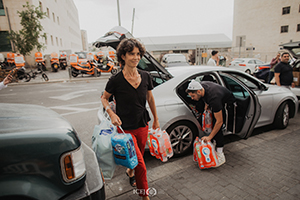 The ICEJ is on the frontlines of Israel's battle to defend us all from jihadist terrorism. Please join us in this just cause today!
This war is Israel's most daunting crisis in generations, as Iran and its proxy Hezbollah are threatening to expand the conflict by raining down hundreds of thousands of rockets and missiles on Israel from Lebanon, even as the world twistedly paints the Jewish State as the aggressor, not victim and defender.
We are unequivocally standing with Israel in this battle. Our emergency response efforts fall into the following three areas:
Relief Aid
Our staff in Israel are on the ground bringing urgent relief aid to the embattled nation.
Currently, we are:
Assisting evacuated Israeli families with housing, food, clothing, and emergency aid—plus toys and activities for the children
Joining urgent food distribution efforts to the elderly, new immigrants, and needy families nationwide
Providing helmets and protective vests to volunteers in first-responder teams
Rushing to order more portable bomb shelters for the north and south of the country and renovating more underground shelters in vulnerable border towns
Donating ambulances and other emergency medical equipment
Donating warm clothing, tents, sleeping bags, and other outdoor equipment for those defending the country
Funding trauma counseling and care for Israeli families severely shaken by the conflict
Prayer Efforts
Advocacy
ICEJ Webinar: "Heroes and Hostages." Watch the replay of this webinar, where you will hear from former Knesset member MK Shay Hermesh, a survivor of the assault on Kfar Aza, about the heroism of those who helped rescue him from the village to safety. We also will speak to Calev Myers, an Israeli attorney appointed by Israeli authorities to help lead the Christian efforts to free the Israeli hostages held in Gaza.
The 2023 War with Hamas—Frequently Asked Questions (FAQ): We have assembled everything you need to know to have a comprehensive overview of the players and history of the current conflict. Download the PDF.
We are your hands and feet when it comes to Israel. Thank you for praying and standing with us.