Israel Allies Foundation Recognizes Dr. Susan Michael Among Top Christian Allies Globally
Honor follows on the heels of Michael's recognition by She Leads America and the U.S. House of Representatives as Christian Woman of Distinction 2023
JERUSALEM – October 10, 2023 – The Israel Allies Foundation, the umbrella organization for 50 Israel Allies Caucuses representing 1,200 legislators, recently released its annual listing of Israel's top 50 Christian Allies from various denominations and church networks around the globe. Dr. Susan Michael, the International Christian Embassy's USA National Director and International Board Member, was included in the lineup, which included a prestigious cadre of Americans such as former Secretary of State Mike Pompeo and actor and director Gary Sinise.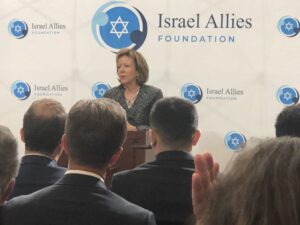 This most recent honor follows on the heels of Dr. Michael's recognition by She Leads America and the U.S. House of Representatives as a Christian Woman of Distinction 2023. For more than 40 years, Susan has pioneered the development of the International Christian Embassy Jerusalem in the United States and around the world. She has developed numerous educational initiatives and formed the powerful American Christian Leaders for Israel network. After decades of engagement with Israel, she is often called upon to address complex and sensitive issues such as the dramatic increase in antisemitism, Jewish-Christian relations, and Christian support for Israel.
Josh Reinstein, president of the Israel Allies Foundation, commented on the significance of the work of those included in the list, telling The Jerusalem Post, "We are honored every year to recognize these incredible men and women of faith from across the world. They are Israel's greatest friends and most loyal allies. Due to their years of hard work, we are seeing the embassies moved to Jerusalem, antisemitism called out, bomb shelters built, pro-Israel policies enacted at the highest levels of government—the impact of their support is truly limitless."
The Israel Allies Foundation chose to publish the annual list for the biblical festival of Sukkot, also known as the Feast of Tabernacles, as the holiday holds a special meaning for many Christian supporters of Israel. According to Zechariah 14:16, there will come a time when individuals from all nations will come to Jerusalem to celebrate the holiday. In anticipation of this, the International Christian Embassy Jerusalem, headed by Dr. Juergen Buehler, also included in the Israel Allies Foundation list, has welcomed thousands of Christians worldwide for the Feast of Tabernacles for over 40 years. The annual gathering has become Israel's largest tourist event.
As the list was published, no one knew that these allies would be so quickly put to the test as they stand with Israel during this unprecedented moment in its history. Just moments after the festival of Sukkot ended, Hamas began its horrifying invasion of the country, barbarically murdering and kidnapping Israeli civilians, including women, children, and the elderly. In response, Dr. Michael commented, "This is a wake-up call for all of us. Being counted as one of Israel's top Christian allies is an incredible honor. However, now more than ever, the responsibility of being a true friend of Israel necessitates that we speak out and add to our numbers. We haven't been this way before. The church can no longer ignore the reality that evil is rising to levels we haven't seen in our lifetime. Christians must understand God's purposes and plans for Israel, as well as the debt we owe them as it was through them that God brought us everything Bible-believing Christians hold dear, including our Messiah."
Putting actions to words, Dr. Michael has been interviewed on numerous programs to explain the crisis in Israel and how Christians can help. In addition, the U.S. branch of the International Christian Embassy Jerusalem is working hard to provide for the practical needs of the thousands who have lost their homes and loved ones in this vicious attack.
For more information, visit https://icejusa.org/drsusanmichael/
To assist with crisis relief, visit https://icejusa.org/donate-israel-in-crisis/
About the International Christian Embassy Jerusalem U.S. Branch
The United States branch of the International Christian Embassy in Jerusalem serves as a channel and a voice of Christian support for Israel and the Jewish people. Its objectives are to financially support the ministry and humanitarian aid and Aliyah projects of the ICEJ headquarters in Israel; to provide educational tools, speakers, seminars, and programming for churches and pro-Israel groups across America; and to stand on behalf of Israel in the public square when need arises. CONTACT: Susan Michael, ICEJ USA National Director, susan.michael@icejusa.org