Review Every Generation's Story
Join Our Launch Team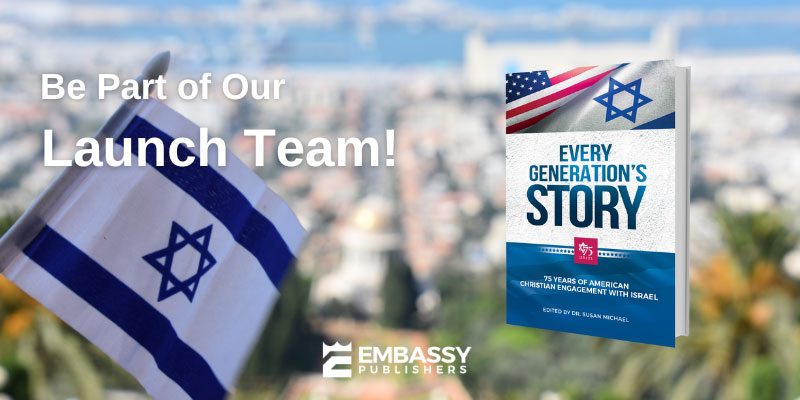 Thanks for your interest in joining the Launch Team for Every Generation's Story: 75 Years of American Christian Engagement with Israel.
We would appreciate your help spreading the word about this exciting new release edited by Dr. Susan Michael. Keep reading to see if you'd like to participate, then fill out this form so Embassy Publishers can send you a FREE early access PDF of Every Generation's Story for review.
Launch team members will be expected to purchase a heavily discounted preorder copy of the eBook on Amazon ($2.99), help spread the word about the book's release, and provide honest feedback and reviews on Amazon. In exchange, we will provide Launch Team members with an early access watermarked PDF copy of the book and shareable social media graphics.
If you'd like to participate, please fill out the form below.
NOTE: If you don't see an email with your PDF right away, please check SPAM. After downloading the PDF and purchasing your discounted eBook of Every Generation's Story, you can start reading! Then watch for future emails with the subject line starting with LAUNCH TEAM. Again, please check SPAM periodically so you don't miss important communication.
Please do not share this form with anyone outside of the Launch Team. Must be in the United States to receive this book. Thank you!