The Dangers of the ICC's 'War Crimes' Libel Against Israel
By David R. Parsons, ICEJ Vice President and Senior Spokesman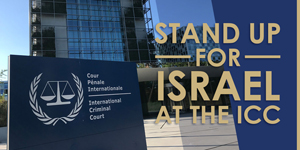 In case you had not heard, there's a new sheriff in town.
Two weeks ago, British lawyer Karim Khan was sworn in as the new chief prosecutor for the International Criminal Court in the Hague, replacing Fatou Bensouda who – just two months before her term ended – launched an official investigation of Israel for alleged war crimes against the Palestinians.
Many are watching closely to see if Khan will dismiss the probe against Israel for being politically motivated and outside the limited jurisdiction of the ICC. This will be an important decision, not only for Israeli political leaders and military commanders who could possibly be arrested while abroad and tried by the Court. It also is crucial for all Israelis who look to the IDF to protect them, as well as for Jews everywhere who are facing a rising tide of antisemitism around the world.
Khan, a Muslim, is an international human rights and criminal lawyer who has been involved in some of the ICC's most high-profile cases. This includes helping the ICC investigate Islamic State for committing atrocities in Iraq. He also has served as defense counsel for several notorious figures brought before the Hague court on charges of genocide and other war crimes, such as Kenya's deputy president William Ruto, the son of late Libyan dictator Moammar Gadhafi, and former Liberian president Charles Taylor.
His predecessor left a number of tough prosecutorial decisions on Khan's plate. Bensouda worked to significantly expand the jurisdiction of the court, drawing criticism from many quarters and even personal sanctions from the Trump administration for seeking to try American soldiers for war crimes in Afghanistan. But her most controversial decision was to open the war crimes probe against Israel.
A number of key Western democratic nations opposed the move because the Court clearly lacked jurisdiction over both Israel (which is not a member state of the ICC) and the Palestinians (who lack the necessary element of statehood). But Bensouda pressed ahead anyway, covertly collaborating with the Palestinian Authority for six years now to put the case together against Israel. The fact that she framed the probe to start with actions taken since June 13, 2014 is further evidence her decision was highly politicized, as that is one day after Hamas terrorists brutally murdered three kidnapped Israeli teens, drawing a heavy Israeli response.
Meantime, Bensouda failed to keep her promise that before leaving office, she would formally proceed with a probe of Turkey for its war crimes and forced population transfers while illegally occupying northern Cyrus – a case many argue involves similar points of law to the case she was building against Israel over Jewish settlements.
In this instance, there is no way to sugar coat Bensouda's actions. She openly turned a blind eye to Turkey's thuggery while pursuing a modern-day blood libel against Israel.
Based on comments he made when assuming office, Khan may be inclined to agree. He suggested that the Court should not be wasting its limited time and resources pursuing so many cases it should not be involved in or cannot win. He also pledged to reach out to nations that are not members of the Court and encourage them to use their own criminal justice systems more to prosecute suspected war crimes committed in their countries.
So we will all be waiting for his verdict on the Israel probe. But it is not too late to weigh in on that decision. The International Christian Embassy Jerusalem is circulating a global petition addressed to the new chief prosecutor and all the state members of the ICC urging them to drop the unfair and untenable war crimes investigation against Israel. And here is why it is important that the voice of Israel's Christian friends is heard on this matter.
Ever since the UN's Durban conference against racism two decades ago, the anti-Israel movement has been driving a very determined agenda against the Jewish state and people. Early on, the goals were to promote divestment from Israel and dismantling of the new security fence around the West Bank. But the agenda expanded over time to include what noted Israeli leader Natan Sharansky identified as the "three Ds" – delegitimization of Israel, demonization of Israel, and applying double standards to Israel. These were all indicators of not just militant anti-Israelism, but of outright antisemitism.
The Palestinian leadership has always been at the forefront of this twisted international agenda, but they have now seen an opportunity through the ICC's very compliant chief prosecutor to expand it even further to include yet another "D" – the disarming of Israel.
The Palestinians and their obsessed global allies are wanting to officially label Israelis as 'war criminals' in order to justify their violence and terror attacks against the Jewish state as well as Jews abroad. Yet at the same time, they also want to strip Israel of its right to defend itself from these attacks. That is, Israel may have the best military in the region, but they will not be able to use it if the IDF is found guilty of committing genocidal crimes against the Palestinians.
Given the current climate of rising global antisemitism, it does not help to have the Hague court – widely seen as having great moral authority – giving serious consideration to these slanderous accusations that Israel has committed war crimes against the Palestinians. This not only endangers all Israelis, it also gives fuel to the antisemites now stalking Jews in the streets of our cities worldwide.
What a sickening outcome – that the Court set up to prosecute and proscribe inhumane atrocities like the Nazis perpetrated against the Jews is now complicit in placing targets on the backs of every Israeli and every Jew in the world.
We must stand against this hideous attempt to turn Israelis and Jews into 'war criminals.' Please sign the ICC petition today, and get your family and friends to sign as well.